Luxury Villas to rent in Crete: Uncover the luxurius world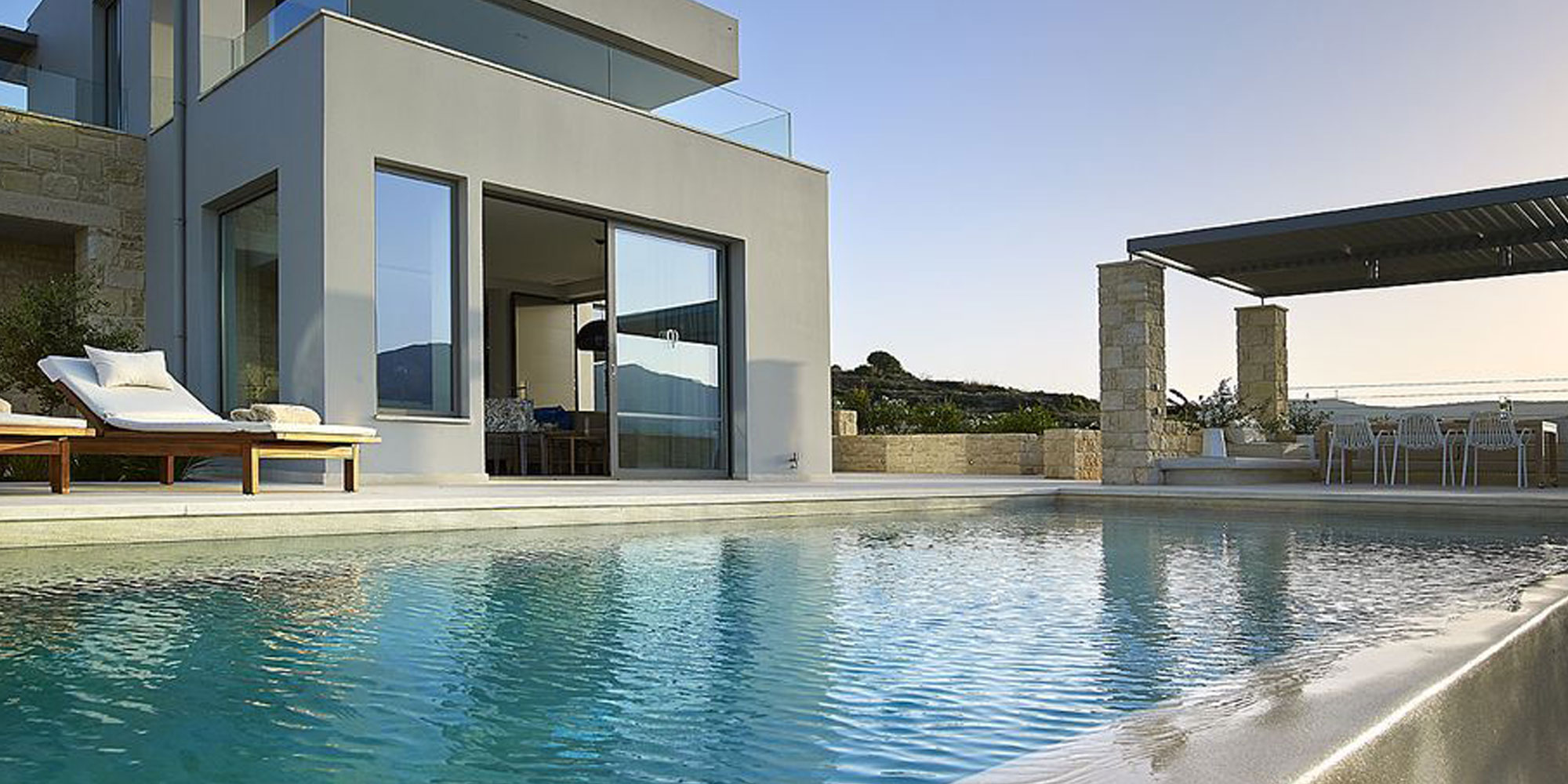 Welcome to the ultimate guide to luxury villa rentals in Crete. If you're seeking a taste of heaven, look no further than this breathtaking Greek island. With its stunning landscapes, crystal-clear waters, and world-renowned hospitality, Crete offers the perfect retreat for those in search of pure bliss.
Imagine waking up in a private villa overlooking the magnificent Aegean Sea, surrounded by lush gardens and enjoying unrivaled privacy. Whether you're planning a romantic getaway, a family vacation, or a group celebration, Crete's luxury villa rentals cater to all your needs and desires.
From modern architectural masterpieces to traditional stone-built houses, these villas provide a harmonious blend of comfort and style. Relax by your own private pool, sunbathe on the pristine beaches, and indulge in gourmet meals prepared by private chefs. With spacious living areas, state-of-the-art facilities, and panoramic views, every moment spent in these villas will leave you feeling like royalty.
Benefits of Renting a Luxury Villa in Crete
When it comes to luxury villa rentals, Crete offers a multitude of benefits that make it an ideal choice for discerning travelers. Firstly, the privacy and exclusivity offered by these villas are unparalleled. Unlike crowded hotels or resorts, luxury villas provide you with a secluded haven where you can truly unwind and recharge. Whether you prefer to relax by the pool or enjoy a quiet moment in your own garden, the privacy afforded by these villas ensures a truly intimate experience.
Secondly, luxury villas in Crete offer ample space and comfort. With multiple bedrooms, spacious living areas, and well-equipped kitchens, these villas provide a home away from home. You and your loved ones can enjoy quality time together without feeling cramped or restricted. Additionally, many luxury villas come with additional amenities such as private gyms, home theaters, and even wine cellars, ensuring that every aspect of your stay is catered to.
Lastly, renting a luxury villa in Crete allows you to experience the island at your own pace. While hotels and resorts often have strict schedules and crowded communal areas, luxury villas offer the freedom to create your own itinerary. Whether you want to explore the local attractions, relax on the beaches, or simply enjoy the villa's facilities, you have the flexibility to do so without any constraints.
Features and Amenities of Luxury Villas in Crete
Crete's luxury villas are designed to offer the utmost comfort and style, with a range of features and amenities that will make your stay unforgettable. Many villas come with private swimming pools, allowing you to take a refreshing dip whenever you please. Imagine lounging by the poolside, sipping a cocktail while basking in the warm Mediterranean sun – pure bliss.
In addition to swimming pools, luxury villas often boast beautifully landscaped gardens, providing a tranquil oasis where you can relax and unwind. Lush greenery, colorful flowers, and carefully designed outdoor seating areas create the perfect ambiance for enjoying the fresh sea breeze or dining al fresco.
Inside the villas, you'll find spacious and elegantly furnished living areas, designed with both comfort and aesthetics in mind. Large windows and open floor plans allow natural light to flood the rooms, creating a bright and inviting atmosphere. High-end furniture, plush sofas, and luxurious bedding ensure that every moment spent indoors is one of pure relaxation.
For those who love to cook or entertain, luxury villas in Crete often come with fully equipped kitchens and outdoor barbecue areas. Imagine preparing a delicious meal using fresh local ingredients, then enjoying it with your loved ones on a terrace overlooking the sea. Many luxury villas also offer the services of private chefs, who can create gourmet meals tailored to your preferences, allowing you to savor the flavors of Crete without lifting a finger.
Tips for Choosing the Perfect Luxury Villa in Crete
When it comes to choosing the perfect luxury villa in Crete, there are a few factors to consider to ensure that you find the ideal match for your needs and preferences. Firstly, think about the location. Do you prefer a coastal setting with easy access to the beach, or do you prefer a more secluded countryside retreat? Consider whether you want to be near amenities such as restaurants and shops or whether you prefer a more remote and tranquil setting.
Next, consider the size and layout of the villa. How many bedrooms do you need? Do you prefer an open-plan design or separate living spaces? Think about the number of bathrooms, the size of the kitchen, and any additional facilities that are important to you, such as a gym or a home theater.
Another crucial factor to consider is the level of service provided. Some luxury villas offer full concierge services, where dedicated staff can assist you with everything from arranging airport transfers to booking excursions and restaurant reservations. Others may offer more limited services, so it's important to clarify what is included before making your booking.
Lastly, consider your budget. Luxury villas in Crete vary in price, depending on factors such as location, size, and amenities. Set a budget that you're comfortable with and prioritize the features that are most important to you. Remember, a luxury villa rental is an investment in creating unforgettable memories, so it's worth allocating a reasonable budget to ensure you have the experience of a lifetime.
Booking Process for Luxury Villa Rentals in Crete
Booking a luxury villa rental in Crete is a straightforward process that can be done online or through a reputable travel agency. Start by researching different villas that match your requirements and preferences. Look at photos, read reviews, and compare prices to get a sense of what each villa has to offer.
Once you've narrowed down your options, reach out to the villa's management or the travel agency to inquire about availability and pricing. It's advisable to book well in advance, especially if you're planning to visit during the peak season, as luxury villas tend to be in high demand.
Before making a final decision, ask for a detailed contract that outlines all the terms and conditions of your stay, including payment schedules, cancellation policies, and any additional fees or charges. Take the time to read through the contract carefully and clarify any questions or concerns you may have before signing.
When it comes time to make your payment, most luxury villa rentals require an initial deposit to secure your booking, followed by the remaining balance closer to your arrival date. Payment methods may vary, so be sure to check with the villa's management or the travel agency for their preferred payment options.
Once your booking is confirmed and paid in full, you'll receive all the necessary information, including check-in instructions, contact details for the villa's management, and any additional services or arrangements you've requested. Pack your bags, prepare for an unforgettable experience, and get ready to indulge in the ultimate luxury in Crete.
Activities and Attractions near Luxury Villas in Crete
While the luxury villas in Crete offer a haven of tranquility and relaxation, there are plenty of activities and attractions nearby to keep you entertained during your stay. One of the must-visit attractions is the Palace of Knossos, an ancient archaeological site that dates back to the Minoan civilization. Explore the ruins of this once-great palace and marvel at the ancient frescoes and artifacts that have been preserved over thousands of years.
For nature lovers, the Samaria Gorge is a must-see. Located in the White Mountains National Park, this breathtaking gorge offers a challenging but rewarding hiking experience. Follow the trail through stunning landscapes, towering cliffs, and crystal-clear streams, and keep an eye out for the native wildlife that calls this area home.
If you're a food enthusiast, be sure to indulge in Crete's world-renowned cuisine. From fresh seafood to traditional dishes such as moussaka and dakos, the island's culinary offerings are a feast for the senses. Visit local tavernas and restaurants to savor authentic flavors, or even take a cooking class to learn how to recreate these delicious dishes yourself.
For those seeking a taste of adventure, Crete offers a range of water sports and outdoor activities. From snorkeling and scuba diving to kayaking and paddleboarding, there are plenty of opportunities to explore the island's crystal-clear waters. Alternatively, take a boat tour around the coast to discover hidden coves and secluded beaches that can only be accessed by water.
Luxury Villa Rental Services in Crete
To ensure a seamless and unforgettable experience, many luxury villa rentals in Crete offer a range of additional services to enhance your stay. These services can include private transportation, personalized excursions, spa treatments, and even yacht charters. Whether you want to embark on a wine tasting tour, have a private yoga session by the pool, or explore the island's hidden gems with a knowledgeable guide, the villa's management can arrange it all for you.
In addition to the on-site services, luxury villa rentals often provide 24/7 concierge assistance to cater to your every need. Whether you need recommendations for restaurants, assistance with booking activities, or simply want to request a late-night snack, the dedicated staff are there to ensure that your stay is as comfortable and stress-free as possible.
Why Luxury Villa Rentals in Crete Offer the Ultimate Blissful Experience
Crete's luxury villa rentals offer the perfect blend of privacy, comfort, and style, allowing you to experience pure bliss on this enchanting Greek island. From the moment you wake up to the breathtaking views of the Aegean Sea to the moment you retire to your luxurious bedroom, every aspect of your stay is designed to leave you feeling pampered and rejuvenated.
Whether you choose a modern architectural masterpiece or a traditional stone-built house, the luxury villas in Crete provide a haven of tranquility where you can escape the stresses of daily life. With their private pools, lush gardens, and panoramic views, these villas offer a truly immersive experience in the natural beauty of the island.
Indulge in gourmet meals prepared by private chefs, explore historic sites and charming villages, or simply unwind by the poolside. Crete offers an array of activities and attractions that will leave you mesmerized and rejuvenated. Whether you're seeking adventure, relaxation, or cultural immersion, this Greek island has something to offer every traveler.
So, start planning your dream vacation and experience the epitome of luxury in Crete's enchanting villas. Whether you're celebrating a special occasion, seeking a romantic getaway, or simply in need of a well-deserved escape, these luxury villa rentals will exceed your expectations and provide you with memories to last a lifetime. Book your stay in Crete today and embark on a journey to pure bliss.